DENPASAR, STIGMA.CO.ID – Opened by the Territorial Assistant (Aster) Kasad Maj. Gen. Mochammad Hasan, the Indonesian Army once again held a Technical Coordination Meeting (Rakornis) of the TNI Manunggal Developing Villages (TMMD) for the 2023 Fiscal Year which was held centrally at the Army Headquarters (Mabesad), Jakarta, on Tuesday (4/7/2023).
Meanwhile through Video Conference (Vidcon), Kodam IX/Udayana took part in the 117th TMMD Coordination Meeting in the Syafiudin Main Meeting Room, Makodam IX/Udayana, Denpasar, led by Kasdam IX/Udayana Brigadier General Sachono, S.H., M.Sc., M. Tr. (Han).
As the TMMD Senior Officer in Planning for Operations Responsible for Operations (PJO), Aster Kasad in his remarks said that the 117th TMMD Rakornis is a preparatory stage before the start of the 117th TMMD program for Fiscal Year 2023 which is planned to start from 12 July to 10 August 2023, which carried out simultaneously in 50 Regencies/Cities.
"The 117th TMMD Rakornis this time is used as a forum for direct coordination and communication with the staff in charge of TMMD, with the hope that TMMD activities can run well and smoothly," said Major General TNI Mochammad Hasan.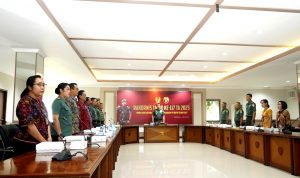 Furthermore, Aster also said that TMMD as a form of service to the TNI is an integrated cross-sectoral program between the TNI, Ministries, Non-Ministerial Government Agencies and Regional Governments and other components of the nation.
"The TMMD program is not just a fairy tale from the TNI, but a joint program, namely the unity of all components of the nation which are coordinated and carried out in mutual cooperation, hand in hand for the sake of increasing people's welfare to support aspects of land area defense," concluded Aster Kasad.
In this regard, Aster Kasad hopes that the TMMD program will become a solution and be able to overcome the difficulties of the people in the region and can continue to be implemented, develop dynamically and sustainably with innovative, adaptive thinking ideas and always pay attention to output and outcome.
As part of fulfilling public information to support the implementation of TMMD, the meeting also held a socialization of the implementation of the 117th TMMD Journalism Competition (LKJ) for the 2023 Fiscal Year for the Dandim who became the 117th TMMD Task Force Commander, as well as electronic media journalists, print and online.
To note, the Physical and Non-Physical targets of the 117th TMMD program for Fiscal Year 2023 which will be implemented in the Kodam IX/Udayana area are spread over four districts in Bali and Nusa Tenggara Provinces, namely in the Kodim 1604/Kupang area, Kodim 1613/West Sumba, Kodim 1620 /Central Lombok and Kodim 1611/Badung.
Present accompanying Kasdam in the activity included Kasrem 163/WSA, Waaster Kasdam IX/Udy, Head of Kasdam Kasdam 163/WSA, Waka Pdam IX/Udy, Pasiter Kodim 1611/Badung, Pabandya Bakti Sterdam, Paku Kodim 1611/Badung as well as officials from the Badung Regency Government which became the target of the 117th TMMD in the province of Bali. (Pendam IX/Udy)